{"id":4371191496740,"title":"Keego No Drill Roller Shades 100% Blackout Customer Cut to Size","handle":"keego-no-drill-roller-shades-100-blackout","description":"\u003cp\u003eQuickly fit the blackout roller shade without any tool in 1 minute, do not need to make any holes on the wall. Stable and will not fall off. Even removing the roller blind, it will not damage the wall.\u003c\/p\u003e\n\u003cp\u003e\u003cspan\u003eYou can customize the various sizes of width and height. If you can't find the correct size in the size list, please send us a product customization request or contact:\u003c\/span\u003e\u003c\/p\u003e\n\u003cp\u003e\u003cspan\u003e📧\u003c\/span\u003e\u003cspan style=\"color: #2b00ff;\"\u003e\u003cstrong\u003ekgreg@keepgoinggroup.com\u003c\/strong\u003e\u003c\/span\u003e\u003c\/p\u003e\n\u003cul\u003e\n\u003cli\u003e\u003ca href=\"https:\/\/www.amazon.com\/dp\/B081RG81VK\/ref=twister_B081N7X4B4\"\u003e\u003cspan\u003e\u003cstrong\u003eAmazon link\u003c\/strong\u003e\u003c\/span\u003e\u003c\/a\u003e\u003c\/li\u003e\n\u003cli\u003e\u003cspan style=\"color: #2b00ff;\"\u003e\u003cstrong\u003ePlease contact customer service before placing an order\u003c\/strong\u003e\u003c\/span\u003e\u003c\/li\u003e\n\u003cli\u003e4-layer Blackout Backing\u003c\/li\u003e\n\u003cli\u003e100% Polyester Fabric\u003c\/li\u003e\n\u003cli\u003eWaterproof \u0026amp; Anti-UV\u003c\/li\u003e\n\u003c\/ul\u003e\n\u003cp\u003e\u003cspan\u003e100% polyester fabrics, opaque fabrics almost completely block the light, protect your privacy and provide you a comfortable sleeping condition even at daytime. Anti-UV and balance indoor temperature.\u003c\/span\u003e\u003c\/p\u003e\n\u003cp\u003e \u003c\/p\u003e\n\u003cp\u003e\u003cspan\u003e⬜\u003c\/span\u003eNo Tools Installation Keego Blackout Roller Shades\u003c\/p\u003e\n\u003cp\u003e\u003cspan\u003e🏵\u003c\/span\u003e.Install your roller shades in seconds with the push of a button — no tools needed.\u003c\/p\u003e\n\u003cp\u003e\u003cspan\u003e🏵\u003c\/span\u003e.The Simple Fit installation system locks the blackout window blinds in place, \u003cspan\u003ekeeping it mounted securely without the need for a drill, screws, or brackets.\u003c\/span\u003e\u003c\/p\u003e\n\u003cp\u003e\u003cspan\u003e🏵\u003c\/span\u003e.Damage free removal, keep your wall or window clean.\u003c\/p\u003e\n\u003cp\u003e\u003cbr\u003e\u003c\/p\u003e\n\u003cp\u003e\u003cstrong\u003e\u003cspan style=\"color: #ff8000;\"\u003e✂CUSTOM CUT TO SIZE:\u003c\/span\u003e\u003c\/strong\u003e\u003c\/p\u003e\n\u003cp\u003eInside mounting ONLY\u003c\/p\u003e\n\u003cp\u003eMin window frame depth is 2\".\u003c\/p\u003e\n\u003cp\u003e\u003cspan\u003eCustom width from 12\" to 51\", Max length is 110\".\u003c\/span\u003e\u003c\/p\u003e\n\u003cp\u003e\u003cspan\u003eThe default control rope of the no drilling shade is on the right side.\u003c\/span\u003e\u003c\/p\u003e\n\u003cp\u003e\u003cspan style=\"color: #ff8000;\"\u003e\u003cstrong\u003eHow to Choose your correct shades size\u003c\/strong\u003e\u003c\/span\u003e\u003cspan\u003e👇\u003c\/span\u003e\u003c\/p\u003e\n\u003cp\u003eThe measurement of your window frame: 60\"W x 70\"H\u003c\/p\u003e\n\u003cp\u003eYour roller shades size should be: 60\"W x 72\"H\u003c\/p\u003e","published_at":"2019-11-19T15:38:14+08:00","created_at":"2019-11-19T15:46:04+08:00","vendor":"Keego","type":"Window Treatment","tags":["Blackout Blinds","Metal Valance","Roller Blinds"],"price":6000,"price_min":6000,"price_max":6000,"available":true,"price_varies":false,"compare_at_price":7000,"compare_at_price_min":7000,"compare_at_price_max":7000,"compare_at_price_varies":false,"variants":[{"id":31239259848740,"title":"Default Title","option1":"Default Title","option2":null,"option3":null,"sku":"","requires_shipping":true,"taxable":true,"featured_image":null,"available":true,"name":"Keego No Drill Roller Shades 100% Blackout Customer Cut to Size","public_title":null,"options":["Default Title"],"price":6000,"weight":0,"compare_at_price":7000,"inventory_management":"shopify","barcode":""}],"images":["\/\/cdn.shopify.com\/s\/files\/1\/0102\/8240\/1828\/products\/132.jpg?v=1599552841","\/\/cdn.shopify.com\/s\/files\/1\/0102\/8240\/1828\/products\/4_7af06bdc-b27b-44d3-a21d-9053c0d8b647.jpg?v=1599553060","\/\/cdn.shopify.com\/s\/files\/1\/0102\/8240\/1828\/products\/131_9d28d8d6-d225-46cf-b6a4-ad40ea8b5947.jpg?v=1599553060","\/\/cdn.shopify.com\/s\/files\/1\/0102\/8240\/1828\/products\/3_b8f58f39-3e6e-47c9-9a53-0de3786ee148.jpg?v=1599553060","\/\/cdn.shopify.com\/s\/files\/1\/0102\/8240\/1828\/products\/5_ea15b3e8-9e59-4f71-96ac-0cafc6f161dc.jpg?v=1599553060","\/\/cdn.shopify.com\/s\/files\/1\/0102\/8240\/1828\/products\/6-_...jpg?v=1599553060","\/\/cdn.shopify.com\/s\/files\/1\/0102\/8240\/1828\/products\/7_8989f5b0-71c4-4564-b2de-4a033c0fb75c.jpg?v=1599553060","\/\/cdn.shopify.com\/s\/files\/1\/0102\/8240\/1828\/products\/3_2d0e02fb-8662-483c-843c-4f3cee30ed66.jpg?v=1599553060","\/\/cdn.shopify.com\/s\/files\/1\/0102\/8240\/1828\/products\/1-081.jpg?v=1599553060","\/\/cdn.shopify.com\/s\/files\/1\/0102\/8240\/1828\/products\/131.jpg?v=1599553060","\/\/cdn.shopify.com\/s\/files\/1\/0102\/8240\/1828\/products\/1-082.jpg?v=1599553060","\/\/cdn.shopify.com\/s\/files\/1\/0102\/8240\/1828\/products\/1223_HA403.082.jpg?v=1599553060","\/\/cdn.shopify.com\/s\/files\/1\/0102\/8240\/1828\/products\/1-083.jpg?v=1599553060","\/\/cdn.shopify.com\/s\/files\/1\/0102\/8240\/1828\/products\/1223_HA403.083.jpg?v=1599553060","\/\/cdn.shopify.com\/s\/files\/1\/0102\/8240\/1828\/products\/1-134.jpg?v=1599553060","\/\/cdn.shopify.com\/s\/files\/1\/0102\/8240\/1828\/products\/134.jpg?v=1599553060"],"featured_image":"\/\/cdn.shopify.com\/s\/files\/1\/0102\/8240\/1828\/products\/132.jpg?v=1599552841","options":["Title"],"media":[{"alt":null,"id":5717845835812,"position":1,"preview_image":{"aspect_ratio":1.0,"height":1100,"width":1100,"src":"https:\/\/cdn.shopify.com\/s\/files\/1\/0102\/8240\/1828\/products\/132.jpg?v=1574149564"},"aspect_ratio":1.0,"height":1100,"media_type":"image","src":"https:\/\/cdn.shopify.com\/s\/files\/1\/0102\/8240\/1828\/products\/132.jpg?v=1574149564","width":1100},{"alt":null,"id":7366093471780,"position":2,"preview_image":{"aspect_ratio":1.0,"height":1100,"width":1100,"src":"https:\/\/cdn.shopify.com\/s\/files\/1\/0102\/8240\/1828\/products\/4_7af06bdc-b27b-44d3-a21d-9053c0d8b647.jpg?v=1599552998"},"aspect_ratio":1.0,"height":1100,"media_type":"image","src":"https:\/\/cdn.shopify.com\/s\/files\/1\/0102\/8240\/1828\/products\/4_7af06bdc-b27b-44d3-a21d-9053c0d8b647.jpg?v=1599552998","width":1100},{"alt":null,"id":7366091735076,"position":3,"preview_image":{"aspect_ratio":1.0,"height":1100,"width":1100,"src":"https:\/\/cdn.shopify.com\/s\/files\/1\/0102\/8240\/1828\/products\/131_9d28d8d6-d225-46cf-b6a4-ad40ea8b5947.jpg?v=1599552947"},"aspect_ratio":1.0,"height":1100,"media_type":"image","src":"https:\/\/cdn.shopify.com\/s\/files\/1\/0102\/8240\/1828\/products\/131_9d28d8d6-d225-46cf-b6a4-ad40ea8b5947.jpg?v=1599552947","width":1100},{"alt":null,"id":7366093439012,"position":4,"preview_image":{"aspect_ratio":1.0,"height":1100,"width":1100,"src":"https:\/\/cdn.shopify.com\/s\/files\/1\/0102\/8240\/1828\/products\/3_b8f58f39-3e6e-47c9-9a53-0de3786ee148.jpg?v=1599552998"},"aspect_ratio":1.0,"height":1100,"media_type":"image","src":"https:\/\/cdn.shopify.com\/s\/files\/1\/0102\/8240\/1828\/products\/3_b8f58f39-3e6e-47c9-9a53-0de3786ee148.jpg?v=1599552998","width":1100},{"alt":null,"id":7366093504548,"position":5,"preview_image":{"aspect_ratio":1.0,"height":1500,"width":1500,"src":"https:\/\/cdn.shopify.com\/s\/files\/1\/0102\/8240\/1828\/products\/5_ea15b3e8-9e59-4f71-96ac-0cafc6f161dc.jpg?v=1599552998"},"aspect_ratio":1.0,"height":1500,"media_type":"image","src":"https:\/\/cdn.shopify.com\/s\/files\/1\/0102\/8240\/1828\/products\/5_ea15b3e8-9e59-4f71-96ac-0cafc6f161dc.jpg?v=1599552998","width":1500},{"alt":null,"id":7366093537316,"position":6,"preview_image":{"aspect_ratio":1.0,"height":1100,"width":1100,"src":"https:\/\/cdn.shopify.com\/s\/files\/1\/0102\/8240\/1828\/products\/6-_...jpg?v=1599552998"},"aspect_ratio":1.0,"height":1100,"media_type":"image","src":"https:\/\/cdn.shopify.com\/s\/files\/1\/0102\/8240\/1828\/products\/6-_...jpg?v=1599552998","width":1100},{"alt":null,"id":7366093570084,"position":7,"preview_image":{"aspect_ratio":1.0,"height":1100,"width":1100,"src":"https:\/\/cdn.shopify.com\/s\/files\/1\/0102\/8240\/1828\/products\/7_8989f5b0-71c4-4564-b2de-4a033c0fb75c.jpg?v=1599552998"},"aspect_ratio":1.0,"height":1100,"media_type":"image","src":"https:\/\/cdn.shopify.com\/s\/files\/1\/0102\/8240\/1828\/products\/7_8989f5b0-71c4-4564-b2de-4a033c0fb75c.jpg?v=1599552998","width":1100},{"alt":null,"id":7366093406244,"position":8,"preview_image":{"aspect_ratio":1.0,"height":1100,"width":1100,"src":"https:\/\/cdn.shopify.com\/s\/files\/1\/0102\/8240\/1828\/products\/3_2d0e02fb-8662-483c-843c-4f3cee30ed66.jpg?v=1599552998"},"aspect_ratio":1.0,"height":1100,"media_type":"image","src":"https:\/\/cdn.shopify.com\/s\/files\/1\/0102\/8240\/1828\/products\/3_2d0e02fb-8662-483c-843c-4f3cee30ed66.jpg?v=1599552998","width":1100},{"alt":null,"id":7366088458276,"position":9,"preview_image":{"aspect_ratio":1.0,"height":1100,"width":1100,"src":"https:\/\/cdn.shopify.com\/s\/files\/1\/0102\/8240\/1828\/products\/1-081.jpg?v=1599552884"},"aspect_ratio":1.0,"height":1100,"media_type":"image","src":"https:\/\/cdn.shopify.com\/s\/files\/1\/0102\/8240\/1828\/products\/1-081.jpg?v=1599552884","width":1100},{"alt":null,"id":7366090391588,"position":10,"preview_image":{"aspect_ratio":1.0,"height":1100,"width":1100,"src":"https:\/\/cdn.shopify.com\/s\/files\/1\/0102\/8240\/1828\/products\/131.jpg?v=1599552918"},"aspect_ratio":1.0,"height":1100,"media_type":"image","src":"https:\/\/cdn.shopify.com\/s\/files\/1\/0102\/8240\/1828\/products\/131.jpg?v=1599552918","width":1100},{"alt":null,"id":7366088491044,"position":11,"preview_image":{"aspect_ratio":1.0,"height":1100,"width":1100,"src":"https:\/\/cdn.shopify.com\/s\/files\/1\/0102\/8240\/1828\/products\/1-082.jpg?v=1599552884"},"aspect_ratio":1.0,"height":1100,"media_type":"image","src":"https:\/\/cdn.shopify.com\/s\/files\/1\/0102\/8240\/1828\/products\/1-082.jpg?v=1599552884","width":1100},{"alt":null,"id":7366090326052,"position":12,"preview_image":{"aspect_ratio":1.0,"height":1200,"width":1200,"src":"https:\/\/cdn.shopify.com\/s\/files\/1\/0102\/8240\/1828\/products\/1223_HA403.082.jpg?v=1599552919"},"aspect_ratio":1.0,"height":1200,"media_type":"image","src":"https:\/\/cdn.shopify.com\/s\/files\/1\/0102\/8240\/1828\/products\/1223_HA403.082.jpg?v=1599552919","width":1200},{"alt":null,"id":7366088523812,"position":13,"preview_image":{"aspect_ratio":1.0,"height":1100,"width":1100,"src":"https:\/\/cdn.shopify.com\/s\/files\/1\/0102\/8240\/1828\/products\/1-083.jpg?v=1599552884"},"aspect_ratio":1.0,"height":1100,"media_type":"image","src":"https:\/\/cdn.shopify.com\/s\/files\/1\/0102\/8240\/1828\/products\/1-083.jpg?v=1599552884","width":1100},{"alt":null,"id":7366090358820,"position":14,"preview_image":{"aspect_ratio":1.0,"height":1200,"width":1200,"src":"https:\/\/cdn.shopify.com\/s\/files\/1\/0102\/8240\/1828\/products\/1223_HA403.083.jpg?v=1599552919"},"aspect_ratio":1.0,"height":1200,"media_type":"image","src":"https:\/\/cdn.shopify.com\/s\/files\/1\/0102\/8240\/1828\/products\/1223_HA403.083.jpg?v=1599552919","width":1200},{"alt":null,"id":7366088556580,"position":15,"preview_image":{"aspect_ratio":1.0,"height":1100,"width":1100,"src":"https:\/\/cdn.shopify.com\/s\/files\/1\/0102\/8240\/1828\/products\/1-134.jpg?v=1599552884"},"aspect_ratio":1.0,"height":1100,"media_type":"image","src":"https:\/\/cdn.shopify.com\/s\/files\/1\/0102\/8240\/1828\/products\/1-134.jpg?v=1599552884","width":1100},{"alt":null,"id":7366090424356,"position":16,"preview_image":{"aspect_ratio":1.0,"height":1100,"width":1100,"src":"https:\/\/cdn.shopify.com\/s\/files\/1\/0102\/8240\/1828\/products\/134.jpg?v=1599552919"},"aspect_ratio":1.0,"height":1100,"media_type":"image","src":"https:\/\/cdn.shopify.com\/s\/files\/1\/0102\/8240\/1828\/products\/134.jpg?v=1599552919","width":1100}],"content":"\u003cp\u003eQuickly fit the blackout roller shade without any tool in 1 minute, do not need to make any holes on the wall. Stable and will not fall off. Even removing the roller blind, it will not damage the wall.\u003c\/p\u003e\n\u003cp\u003e\u003cspan\u003eYou can customize the various sizes of width and height. If you can't find the correct size in the size list, please send us a product customization request or contact:\u003c\/span\u003e\u003c\/p\u003e\n\u003cp\u003e\u003cspan\u003e📧\u003c\/span\u003e\u003cspan style=\"color: #2b00ff;\"\u003e\u003cstrong\u003ekgreg@keepgoinggroup.com\u003c\/strong\u003e\u003c\/span\u003e\u003c\/p\u003e\n\u003cul\u003e\n\u003cli\u003e\u003ca href=\"https:\/\/www.amazon.com\/dp\/B081RG81VK\/ref=twister_B081N7X4B4\"\u003e\u003cspan\u003e\u003cstrong\u003eAmazon link\u003c\/strong\u003e\u003c\/span\u003e\u003c\/a\u003e\u003c\/li\u003e\n\u003cli\u003e\u003cspan style=\"color: #2b00ff;\"\u003e\u003cstrong\u003ePlease contact customer service before placing an order\u003c\/strong\u003e\u003c\/span\u003e\u003c\/li\u003e\n\u003cli\u003e4-layer Blackout Backing\u003c\/li\u003e\n\u003cli\u003e100% Polyester Fabric\u003c\/li\u003e\n\u003cli\u003eWaterproof \u0026amp; Anti-UV\u003c\/li\u003e\n\u003c\/ul\u003e\n\u003cp\u003e\u003cspan\u003e100% polyester fabrics, opaque fabrics almost completely block the light, protect your privacy and provide you a comfortable sleeping condition even at daytime. Anti-UV and balance indoor temperature.\u003c\/span\u003e\u003c\/p\u003e\n\u003cp\u003e \u003c\/p\u003e\n\u003cp\u003e\u003cspan\u003e⬜\u003c\/span\u003eNo Tools Installation Keego Blackout Roller Shades\u003c\/p\u003e\n\u003cp\u003e\u003cspan\u003e🏵\u003c\/span\u003e.Install your roller shades in seconds with the push of a button — no tools needed.\u003c\/p\u003e\n\u003cp\u003e\u003cspan\u003e🏵\u003c\/span\u003e.The Simple Fit installation system locks the blackout window blinds in place, \u003cspan\u003ekeeping it mounted securely without the need for a drill, screws, or brackets.\u003c\/span\u003e\u003c\/p\u003e\n\u003cp\u003e\u003cspan\u003e🏵\u003c\/span\u003e.Damage free removal, keep your wall or window clean.\u003c\/p\u003e\n\u003cp\u003e\u003cbr\u003e\u003c\/p\u003e\n\u003cp\u003e\u003cstrong\u003e\u003cspan style=\"color: #ff8000;\"\u003e✂CUSTOM CUT TO SIZE:\u003c\/span\u003e\u003c\/strong\u003e\u003c\/p\u003e\n\u003cp\u003eInside mounting ONLY\u003c\/p\u003e\n\u003cp\u003eMin window frame depth is 2\".\u003c\/p\u003e\n\u003cp\u003e\u003cspan\u003eCustom width from 12\" to 51\", Max length is 110\".\u003c\/span\u003e\u003c\/p\u003e\n\u003cp\u003e\u003cspan\u003eThe default control rope of the no drilling shade is on the right side.\u003c\/span\u003e\u003c\/p\u003e\n\u003cp\u003e\u003cspan style=\"color: #ff8000;\"\u003e\u003cstrong\u003eHow to Choose your correct shades size\u003c\/strong\u003e\u003c\/span\u003e\u003cspan\u003e👇\u003c\/span\u003e\u003c\/p\u003e\n\u003cp\u003eThe measurement of your window frame: 60\"W x 70\"H\u003c\/p\u003e\n\u003cp\u003eYour roller shades size should be: 60\"W x 72\"H\u003c\/p\u003e"}
Keego No Drill Roller Shades 100% Blackout Customer Cut to Size
Keego No Drill Roller Shades 100% Blackout Customer Cut to Size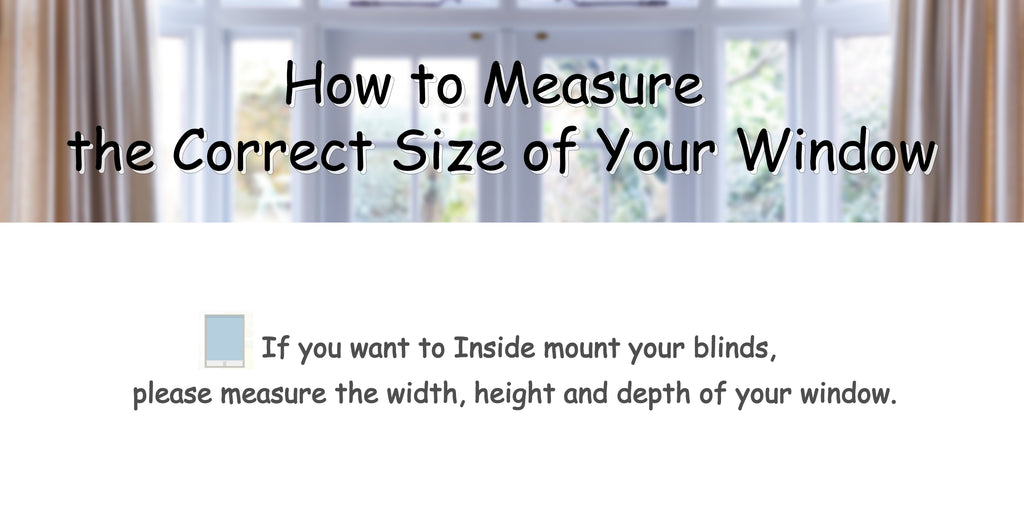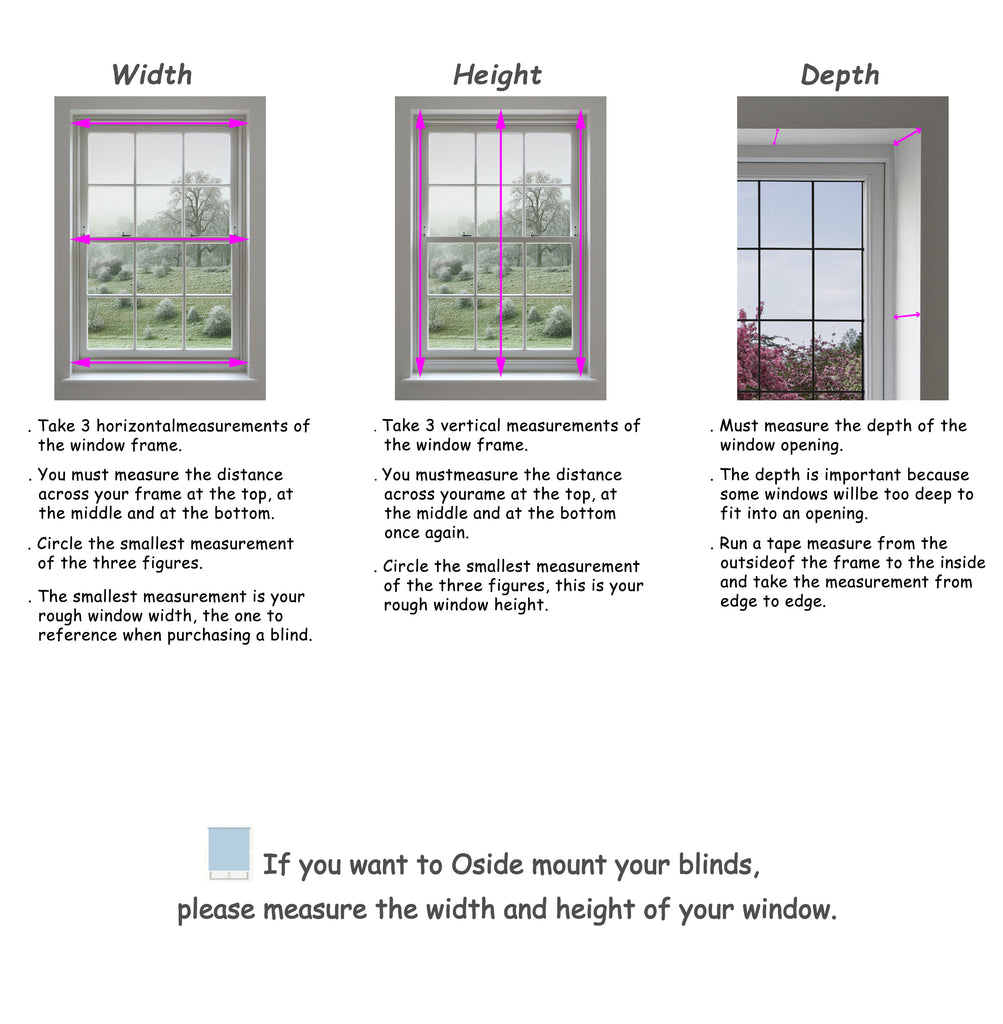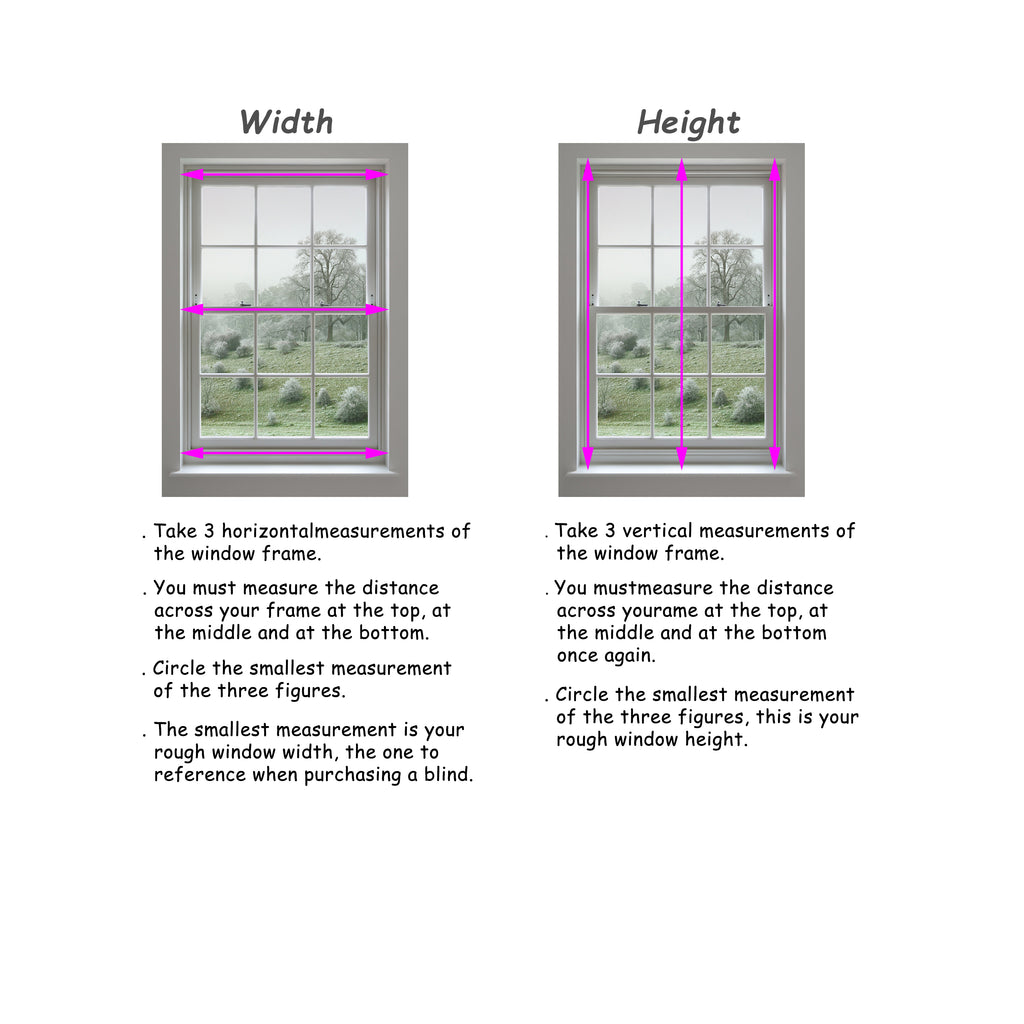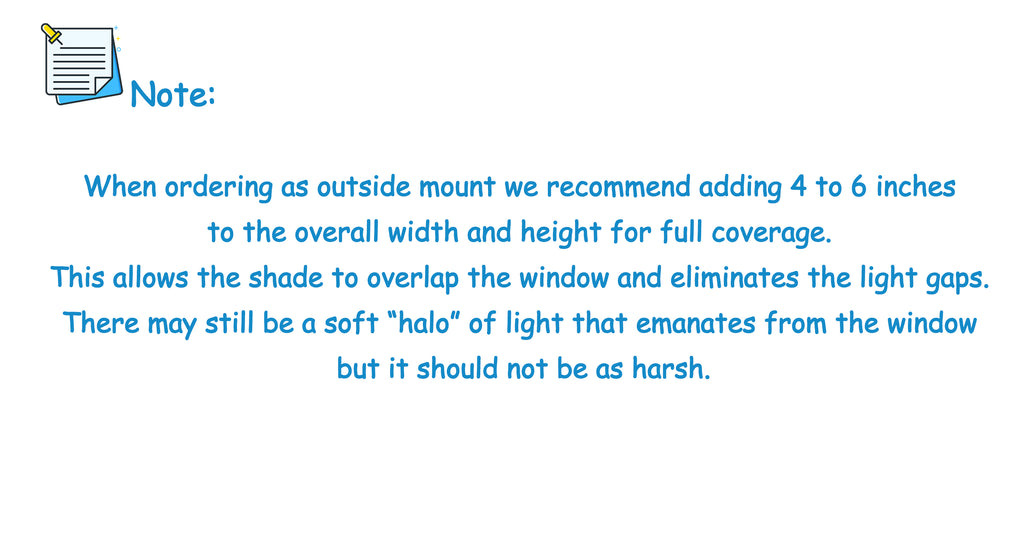 Shipping
Your order will ship within 4 days, and arrive at your doorstep in 7-10 days unless otherwise stated. If your order is expecting delays, we will notify you as soon as possible of the changes.
Orders will be shipped by UPS, DHL or FedEx.
Please contact our customer service if there is a change to your shipping address prior to shipment.
Warranty & Return Policy
30-Day Money-Back Guarantee
If you would like to return your order, please return your undamaged (unopened package) product within 30 days of the order date and receive a full refund  -- no questions asked.
3-Month Warranty
If there are quality related issues reported within 3 months of the order date, we will handle the quality related issues including partial replacement or partial refund (less than 50%).
Friendly Note: Please be sure to read the attached user manual and follow the instructions to use this product. Please send us a photo of the defective part(s) of the product you received.
Shipping costs associated with the warranty are covered only in the country of purchase. If the product was purchased outside of the country of purchase, any shipping charges are the responsibility of the buyer. Alternatively, we can provide a 50% refund of the order price of the item without returning the item.
If you choose to return a product, please return it within 20 days of receiving approval of return. Further delay will invalidate your refund.
Any change to this policy will be updated on this page directly.
Please feel free to contact us using the email address below.
Email: kgreg@keepgoinggroup.com